Challoumi balls ("Keftedes")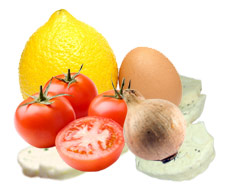 Preparation: 20 – 30 min
6 servings
2 eggs
4 slices day-old white bread

Water
1 large potato, grated and squeezed
1 large onion, grated
2 garlic cloves, crushed
2 tablespoons chopped parsley
1 teaspoon dried mint
2 tablespoons grated challoumi cheese
2 teaspoons salt

Ground pepper
1 kg finely minced ground beef or ground pork
Some flour, for coating
Oil (for frying)
Remove crust form bread and discard, soak bread in cold water and squeeze dry Beat eggs lightly in a deep mixing bowl. Add the crumble in the eggs, the onions, potato, herbs, garlic, cheese and seasonings.
Add meat and blend lightly and thorough by mixing with hands.
Cover and refrigerate for 1 hour. After with moistened hands, shape into balls about the size of a small egg. Roll in flour and flatten each to a thick patty. Fry in shallow pan in hot oil until nicely browned (6 minutes each side). Lift out and drain. Place in serving dish and eat it while hot. With vegetable, or pasta side dish is a great meal.