"Challoumi-Pitta" (Halloumi Bread)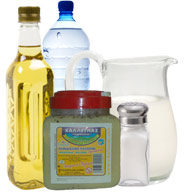 Preparation: 2-2,5 hours
6 servings
500 g plain flour
15 g salt
20 g instant yeast
80 ml olive oil
90 ml milk
90 ml tepid water
150 g haloumi, cubed
2 tablespoons dried mint
In a large mixing bowl, mix together the flour, salt, yeast, olive oil, milk and water and mix them to form a smooth dough; mould until smooth.
Place the dough in a lightly oiled bowl, cover with cling film and leave in a warm place to rise for 1 hour. Break down the dough and mix in the chaloumi cubes and dried mint. Then shape the dough into a ball, place on a greased baking sheet, cover and leave to rise in a warm place for another hour. In the meanwhile preheat the oven to 230ºC/gas 8.
Bake the bread for 30 minutes until golden and cooked through.
Cool the bread. You can serve the halloumi pie - bread with an olive salad.