Salad with Fried Challoumi
Preparation: 20 – 30 min
3-4 servings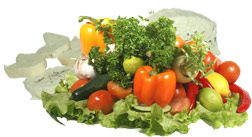 1 halloumi cheese
2 tablespoons seasoned flour
2 tablespoons olive oil
For the dressing:
1 lime, juice and zest of
1 tablespoon white wine vinegar
1 1/2 tablespoons small capers, drained
1 clove crushed garlic
1 1/2 teaspoons grain mustard
1 1/2 tablespoons chopped coriander
2 tablespoons of a good quality olive oil
salt, to taste
milled pepper, to taste
some coriander, to serve coriander.

Unwrap the cheese and pat dry with kitchen paper. Using a sharp knife try to slice the chaloumi into 8 slices; haloumi tends to split. Whisk together all the ingredients for the dressing. In the meanwhile heat the oil in a frying pan; press each slice of cheese in the flour, coat on both sides.
When the oil is really hot, add the slices to the pan, fry them approx one minute on each side, until they have turn a deep golden colour. Serve them with the dressing poured over and garnished with the coriander.