Challoumi "Souvlaki" (Challoumi Kebabs)
This dish can be served as a main course, or as a vegetarian appetizer.
Preparation: 25 – 35 min
2-4 servings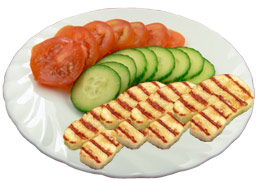 12 ounces halloumi cheese, cut into 1 inch cubes
1 sweet bell pepper, any colour you like
1 red onion
Mushrooms
Marinade made of:
2-3 tablespoons of olive oil
1-2 tablespoon fresh finely chopped herbs (like, thyme, oregano, parsley, mint or any combination that you like or what is available.)
crushed garlic
lime juice or lemon juice
black pepper
skewers (Wooden or metal) – how many depends on the size and the quantity of the vegetables you want to use.
Cut up the bell pepper and the red onion to match the size of the cheese cubes.
To make the marinade, combine the herbs, garlic, oil, pepper and add lime juice to taste.
Put the cheese, pepper, onion and mushrooms to the marinade, mix all together, cover and place them in the fridge for 24 hours. If the ingredients are not covered, give them a stir now and then. Haloumi is salty enough, so add salt to the marinade if you personally like. Next day, thread the CHaloumi mix onto skewers, barbeque or grill them, until the cheese is gets brown around the edges. Use the left over marinade for basting.