Cyprus culture is a culture of many centuries, a mixture of knowledge, ideas, images and tastes of many past civilizations.

It is no coincidence that Aphrodite, the goddess of love was born on this island. A sunny paradise island embraces all kind of people.

So many nations, so many conquerors passed and left their mark on the culture, the food and generally the way of life. All this mosaic of fragrances and tastes, is sealed with a heavy Cypriot identity
Cyprus is famous of its warm climate, cool beaches and the outstanding way of life.

One of our major characteristics is hospitality; hospitality and indulgence. Good company along with good food is a way of life, for the Cypriots; good olive oil, good wine and top quality Cyprus cheese (Cyprus Halloumi - Challoumi).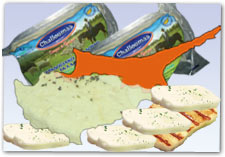 Challoumi – Halloumi (Cyprus Cheese), is a very old tradition in Cyprus. The way of preservation of this particular Cyprus cheese (halloumi) makes it ideal for the warm climate of Cyprus, from way back, before the discovery of automatic cooling and its unique taste makes it an inseparable part of the Cyprus Mediterranean Cuisine.

The word "haloumi" derives from the Greek word "almi", which it means salty water. It is a semi-hard cheese made from sheep or goat's milk, seasoned with mint leaves and preserved in brine. Cyprus Halloumi can be stored for long periods despite the hot climate of Cyprus.

From past centuries, when chaloumi (halloumi) was hand- made in the Cypriot villages, with simple ways and methods, until this day that halloumi is made in modern factories using the most advanced technology, challoumi is still the same delicious Cyprus cheese (Cyprus Halloumi), first in sale in the Cyprus market. If you go out to eat in any restaurant and any place in any town all over Cyprus: Nicosia (Lefkosia), Limassol (Lemesos), Larnaca (Larnaka), Paphos (Pafos) or Ammochostos (Agia Napa), you will always find halloumi served on their menu.

Haloumi is a part of the life and culture of Cyprus and is a great representative of the Cypriot tradition and Cuisine.
Cyprus Halloumi is officially recognised as the Cyprus's inimitable national cheese.