FLAOUNES (Easter Cheese Pies)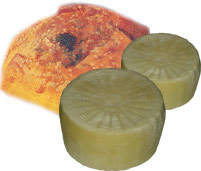 Approximately 12 pieces.
Ingredients:
Yeast dough
1 ½ lbs (750gr) strong plain flour,
1 sachet easy bake yeast (baking powder)
1 teaspoon salt,
2 teaspoons sugar,
2 tablespoons olive or vegetable oil
& water to mix.
Cheese filling
12oz flaouna cheese,or 8oz (250gr) cheddar cheese (if flauna cheese is not available).
4oz (100gr) challoumi,
1 tablespoon flour,
1 teaspoon baking powder,
1 tablespoon crushed dried Mint,
4 eggs lightly beaten.
To finish
1 egg, beaten,
Sesame seeds.
Method
Put through a sieve the flour into a large bowl. Stir in the yeast, salt and sugar. Add the oil and enough water to make firm the dough. Massage for at least 5 minutes until smooth and elastic. Put the dough in a plastic bag and leave in a warm place for an hour to rise.
For the filling, roughly grate the cheeses, add the flour and baking powder then gradually stir in the beaten egg and seasonings until you have a pretty stiff paste (keep some of the eggs back if the mixture becomes too runny). Divide the dough into egg sized pieces and roll these into 4'' (10cm) discs.
Place a generous tablespoon of filling in the centre of each pastry disc, spreading it slightly. Pull dough up at 3 points to make a triangle, or 4 points to make a square. The filling in the middle mustn't be totally covered.
Press corners together to seal and leave to rise. Just before baking, brush with beaten egg and sprinkle some sesame seeds over the finished flaounes.
Bake in a hot oven gas 8, 450'C, 230'C for 12-15 minutes until cheese filling is puffed and flaunes are golden.
Serve warm or cold.