Soup Trahanas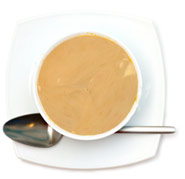 4 Servings
INGREDIENTS
500 gr Cyprus trahanas
Water
3 fresh tomatoes (optional)
1 cube of chicken stock
1 package of challoumi cheese (you can use more if you like).
Olive oil
Salt & Pepper

METHOD:
First we allow trachana to soak in water for about 30 minutes. The dosage for a half a kilo of trahana is two glasses of water. We add hot chicken stock and cook for about half hour, adding salt and pepper, with some olive oil. . In the end we add small cubes of halloumi. You can add water depending on how thick you want your soup to be.
If you like tomatoes, you can try another version of this Cypriot soup. Clean and mash the tomatoes. Add the tomato mash, the trahana, olive oil, salt and pepper in a saucepan, add 4 cups of water and boil for 15 minutes. In the end, add cubes of chaloumi.