Trahanas with soft white cheese (like feta), honey and Cypriot delicacy (preserve sweet).
4 -6 Servings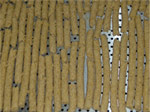 INGREDIENTS
2 cups of Cyprus Trachana
3 cups of full fat milk
3 cups of water
1 cup of crumbled white cheese (fetta)
4-6 teaspoon of honey
4-6 teaspoons of Cyprus delicacy (sweets), orange or grape.

METHOD:
Into a saucepan put the Trahanas, the milk and the water and warm until they reach a boiling temperature. As soon it starts to boil, reduce into low heat and stir the mixture, every now and then until it gets thick and fluffy. Remove the cream from the fire and poor it in plates. Garnish with a large spoon of cheese and poor a teaspoon of honey over. Serve it with a spoon of Cyprus delicacy (orange and grape or any other flavour you prefer).